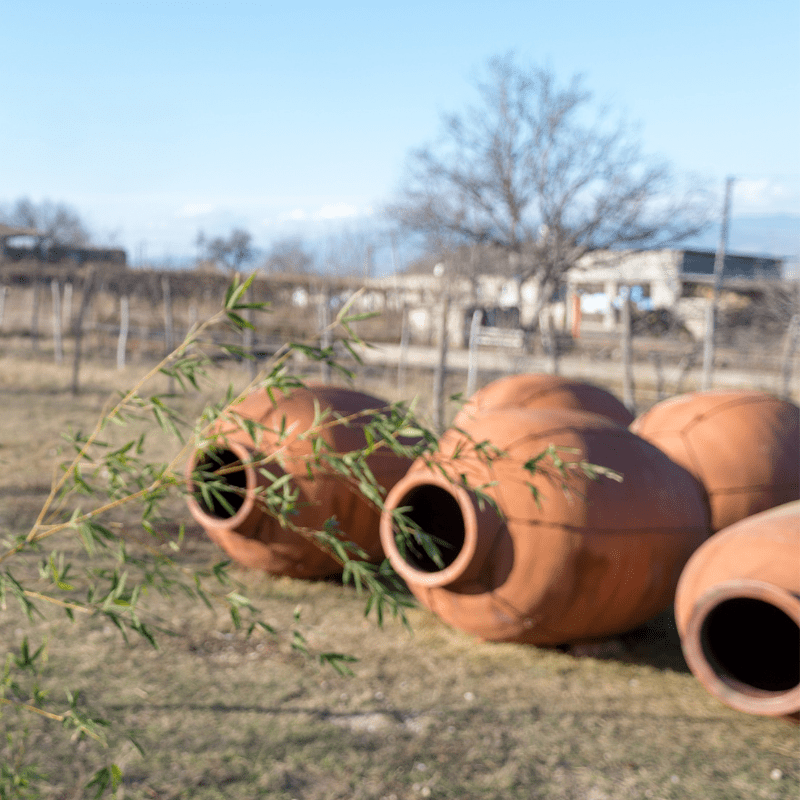 Winemaker's evaluation of 2021 Rtveli (vintage)
In Georgia the Rtveli (vintage) process starts in Kakheti, continues in Kartli and concludes in west Georgia. Representatives of Georgian small wine cellars provide different assessments on the 2021 Rtveli, it depends on the climatic and environmental conditions in the given micro-zone as well as the initial plans of grape-growers/winemakers regarding the type of grapes they wished to harvest for wines. It's interesting to hear how the members of Natural Wine Association evaluate the now finished Rtveli and maceration processes.
Aleko Narimanidze, "Aleksandres Marani" (Alexander's Wine Cellar) (Kakheti): "This year's harvest here in Inner Kakheti was very good. I was able to pick out the best grapes. It's true that frequent rains had a negative impact, but I really hope this will not be reflected in the quality of wine. I mainly harvested Rkatsiteli and Mtsvane Kakhuri varieties and produced a total of 8 metric tons of wine. 2 tons out of that amount was Mtsvane Kakhuri wine."
Tamuna Bidzinashvili, "Kortavebis Marani" (Kortavas' Wine Cellar) (Kakheti): "Unfortunately, in our area, near Kvareli, the harvest was not so good and I'm not very happy with this year's yield. As for the wine, all procedures were implemented successfully. We tried to ferment the wine and dissolve sugar without grape skins and pips and I guess we succeeded in that endeavor.
Unfortunately, our vineyard had mildew, and even rot in some places. We were also hit by hail. We recently bought a vineyard in Mukhrani where I grow Chinuri variety for "Tamuna's Wine" and in Kartli we actually had a wonderful yield!"
Amiran Vepkhvadze, "Amiran Vepkhvadzis Marani" (Amiran Vepkhvadze's Wine Cellar) (Imereti): "Despite the very unstable weather, I managed to "salvage" this year's grape harvest quite well and I believe I got the healthy harvest. This year I treated my vineyards with Kocide and Sulphur and I think it worked. This year I'll have Tsolikouri, Tsitska and Krakhuna wines made on the basis of Imeretian traditions. I used European methods for producing Krakhuna wine. I also made pink Tsitska-Otskhanuri Sapere and a separate Otskhanuri Sapere wines."
Gogita Makaridze, "Terjolis Ghvino" (Terjola Wine) co-op (Imereti): "This year's summer was a bit on the rainy side and wines will be relatively light and cheerful. I made 1,800 liters of Tsitska, 1,700 liters of Tsolikouri, 1,300 liters of Otskhanuri, 400 liters of Dondghlabi and 500 liters of Aladasturi wines. I hope all processes will be successful."
Gocha Chrelashvili, "Dimis Perdobi" wine cellar (Dimi Slope wine cellar) (Imereti): "This year we had small, but high-quality yields. We mainly produced Tsolikouri, Otskhanuri and Sapere wines this year. This year we also got the first harvest from the newly planted Dzelshavi grapes, we picked around 100 kilograms of that variety. In one of the sections of the vineyard Tsolikouri grapes had 20% sugar and in another section the sugar levels amounted to 24%. Therefore, we decided to make separate wines from them and see how they end up."
Elguja Goderdzishvili, "Goderdzishvilebis Marani" (Goderdzishvilis' Wine Cellar) (Kakheti): "We're happy with the 2021 vintage. It's true that the June-July drought slightly damaged the young grapes, however, it had no impact on the total harvest. The grapes had quite good sugar levels (25-26%) and their flavor was quite pleasant too. We believe the 2021 wines will have high alcohol and tannin levels. There is a possibility that the wines will end up having slight traces of sugar."
Baia Abuladze, "Baias Ghvino" (Baia's Wine) (Imereti): "This was an interesting year for our region's viticulture/winemaking, but it was full of challenges too. September turned out to be quite cool, that's why we think this year's wines will be distinguished for their acidity. However, we should also expect aromatic wines as well, since we harvested the varieties of grapes that can develop different aromas quite well. I hope that we'll have high-quality wines from the 2021 vintage."
Lasha Guruli, "Enkeni" wine cellar (Imereti): "This year I harvested grapes a little earlier – at the end of September. That's why I was able to avoid rot caused by rains. This year I'm going to have 3 wines: Tsitska, Tsolikouri and Dzelshavi. All three wines were made in Qvevris based on the European methods (without using grape skins and pips)."