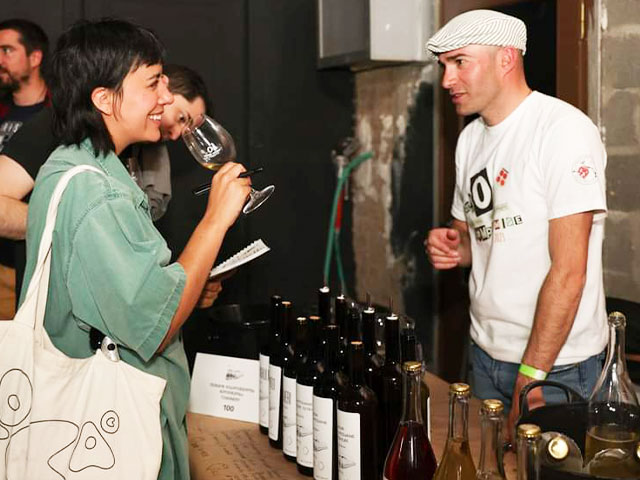 From Khidistavi to Milan
Tengiz Dvalishvili's blog
[TD Winery]
My interest in the vineyard started from childhood, when my grandfather told us stories about his grandfather, his work, and his cellar and vineyard. These memories stayed with me as a child, and I was no exception. I have been connected to the vineyard since childhood. As a child, I helped with the work that was suitable for my age.
After graduating from the university, I returned to my native village of Khidistavi. At that time, I was more interested in dancing than viticulture, so I joined the "Rokva" ensemble of the Shota Rustaveli Theater University. One day, as I was preparing for a rehearsal of the choreographic ensemble that I had founded in my village in 2011, Zaza Gagua, a naturalist winemaker, came to visit my father in Khidistavi. He told me after our conversation that making wine was the greatest art. His words resonated with me so much that I began to think about planting my own vineyard. My father had a family vineyard, but he made all the decisions about its upkeep. I wanted a place where I could pursue my own vision and goals. I loved being close to nature, and I wanted to create something that would harmonize with it. In 2015, I was lucky enough to find a good person who sold me the land and helped me make my dreams come true.
In 2019, I achieved one of my goals and became a member of the Natural Wine Association. I eagerly anticipated the first festival of the Association. I had only one type of wine to offer - a blend of the first harvest of 2018, which marked the beginning of my adventure. The 2019 Amerimeri festival will always hold a special place in my memory as the first thrill. In 2017, I welcomed my first child and dedicated a vineyard to him, where I planted the Kartli grape variety Danakharuli. And in 2022, I received the ultimate recognition of my hard work, when I inherited the 50-year-old vineyard of our family.
The first Zero Compromise 2022 opened up new horizons for me. At this exhibition, I met the Italian organizers of the wine exhibition in Milan. Thanks to the Association and Zero Compromise, I got to participate in La Terra Trema, where I witnessed the high demand for Georgian natural wine. I was intrigued by the enthusiasm of young people. The exhibition attracted over 7000 visitors in three days.
The wine exhibition in Milan also attracted festival organizers from various cities. Everyone at the exhibition - the winemakers, the guests, and the organizers - agreed that Georgia and its traditional wine-making method were fascinating. Besides taking part in exhibitions, I welcome tourists from all over the world every day. They help me spread my wines across the globe. They often send me photos and tell me how they share Georgian natural wine and culture with those who have not visited our country yet. This makes living in the countryside more enjoyable.
By observing and caring for nature, I learned how much the world can give us in return.
Wine exhibitions are very important for the regions. We are looking forward to the Amerimeri festival of the Natural Wine Association. This festival shows how a well-organized event can boost and promote the regions. Amerimeri is in Tskaltubo for the second year and gathers the natural wine makers and fans in a beautiful setting. It is a festive day. Winegrowers from different parts of Georgia sample and comment on each other's wines. I wish good luck to the new members of the Association who are joining this festival for the first time and embarking on a global journey.