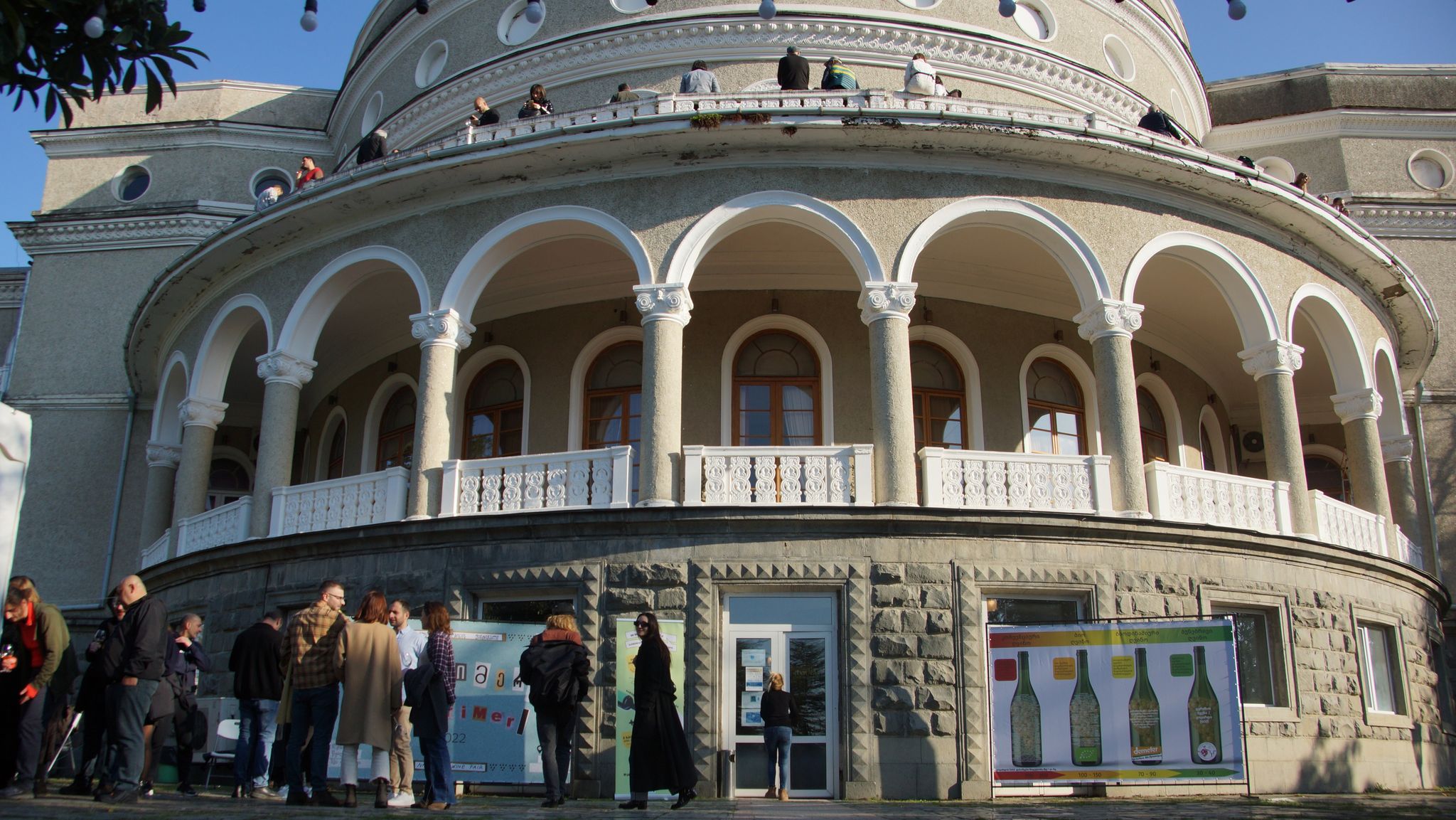 Amerimeri for Tskaltubo and Tskaltubo for Amerimeri
The natural wine festival Amerimeri, planned for December 2 in the city of Tskaltubo, is especially being awaited by its participants - the winemakers who are members of the Natural Wine Association. Some of them have been appearing at such natural wine forums for a long time; but there are also relative newcomers for whom Amerimeri is the first festival.
The National Wine Agency of Georgia makes Amerimeri possible with its support. Irakli Cholobargia, the agency's representative, has been supporting and befriending the Natural Wine Association for years. He says that the agency assists Amerimeri with both money and logistics, as it does for other festivals.
Irakli Cholobargia, from the National Wine Agency, says that Amerimeri is a unique festival, as it marks the end of the year and the beginning of the next one. Winemakers can showcase their products to the consumers, who can sample new or familiar wines. The National Wine Agency has been working with the Natural Wine Association for a long time, helping them not only in Georgia, but also abroad. He is happy that more wineries are making natural wine these days. He says, "We support them."
NWA.GE talked to the winegrowers who are taking part in Amerimeri about their feelings and expectations before the festival.
Soso Martiashvili, "Martiashvili Winery": "We are excited about the festival, which is a good way to increase the awareness of our winery and meet good people. We will also taste many of the fine wines presented at the festival, and present our wines for tasting. We will present: the Khikhvi of the 2022 harvest, which we aged for 6 months with full skin contact; and the Khikhvi of this year's vintage, which we aged for 2 months in Qvevri. Wine lovers will have the opportunity to compare these wines. It is very good to hold natural wine festivals in different regions, as well as it means new emotions and discovering new places. I have never visited Tskaltubo and I am very interested."
Giorgi Tkesheliadze, from "Baba's Marani", says that he is looking forward to Amerimeri with a positive outlook and enthusiasm. He will bring "Baba's Winery" Tsolikouri wine, a native white grape from western Georgia. He thinks that Tskaltubo is an ideal location for a natural wine festival, and he hopes to find the perfect atmosphere for natural wine lovers.
Giorgi Aivaziani, from Manavi Wines: "For me, any festival is a celebration. It is a unique arena where winemakers are given the opportunity to interact with potential importers, consumers and fellow winemakers. There's probably no better place to really explore the emotions that your wine evokes, get tips, taste tons of outstanding wines, as well as just spend the day with natural wine lovers. Manavi Wines will present 2021 and 2022 wines. Pét-nats of 2023 should also be ready by that time. Tskaltubo is a unique place: quiet, with special nature. Here you will forget about the daily routine and completely immerse yourself in the festive mood. The distance from Tbilisi has its peculiarity: only a very eager audience gathers, which makes the festival cozier."
Malkhaz Mshvildadze, "Baghdati Estates": "As always, we are looking forward to the festival of our Association. After the harvest, we will once again have the opportunity to meet other wineries, importers, and wine lovers. "Baghdati Estates" will present the 2021 and 2022 harvests of the Imeretian White (Churi), Imeretian Pink and the Imeretian Red. The wine of the 2022 harvest is still in the tanks and will be bottled soon. Tskaltubo is a carrier of a resort and a tourist load, and we are sure that the natural wine festival will further enrich and revive its social role."
Marina Kakiashvili-Ruadze, "Doctor's Bio-winery": "This festival, organized by the Natural Wine Association, supports the small wineries and the increase in awareness of wines. This year I will present 5 types of wine: Saperavi Qvevri, Saperavi European (no skin contact), Khikhvi, Khikhvi-Rkatsiteli blend and Rkatsiteli. Holding the natural wine festival Amerimeri in the city of Tskaltubo is also important by increasing the awareness of natural wine producing cellars and wine in the local market. As well as at the festival, we get to know the representatives of other wineries that are members of the Natural Wine Association, taste wines, share our experiences and get advice."
Nino Mushkudiani, "Mushkudiani Marani": "The pre-festival mood is filled with great expectations. "Mushkudiani Marani" will present Tvishi Tsolikauri at the festival. The city of Tskaltubo, as a historic resort town, is very interesting for its architecture and antiquity. I think holding such a good festival in Tskaltubo will contribute to the promotion of this city."
Anatasia Akhvlediani, ARTANA WINES: "Amerimeri was the first festival where we participated. This festival is very important for the region. As more festivals are held outside of Tbilisi, this will help different regions develop. This festival is a great example for others. This year we will be at the festival with 2022 wines and Chacha. We will have Saperavi, Rkatsiteli, Vardisperi (pink) Rkatsiteli blend and Kakhuri Mtsvane wines, as well as Chacha and a distilled wine "Maro".
Khatia Darguashvili, "Anapea": "We are in a festive and uplifting mood, because Amerimeri is associated with the celebration of natural wine and wineries of this direction. The location, the wine, the mood, the period, the people… everything is there for the visiting guests to taste unique, interesting natural wines. This year, as well as the main varieties such as: Kisi, Khikhvi, Mtsvane Kakhuri, Mtsvivani Kakhuri, Vardisperi (Pink) Rkatsiteli, Saperavi - we will try to bring out rare/collectible varieties, which we have cultivated in our vineyard up to 32 varieties. There is always a great interest among the winemakers themselves to try something new and forgotten."
Ketevan Hubert, "Winery Tilisma": "The pre-festival mood is a positive one. A lot of people may not be able to make it, but the Association's festivals are still fun. It is nice to meet colleagues and taste wine. Tskaltubo has a nature and an environment that are extraordinary. Everything really cannot be done in Tbilisi!"
The Amerimeri festival is being held in Tskaltubo for the second time. In this small, but undeniably beautiful and unique city of Imereti, no one is spoiled with such events. The winemakers participating in the festival have long agreed that the time has come for everything to move from Tbilisi to other regions!
Levan Sebiskveradze