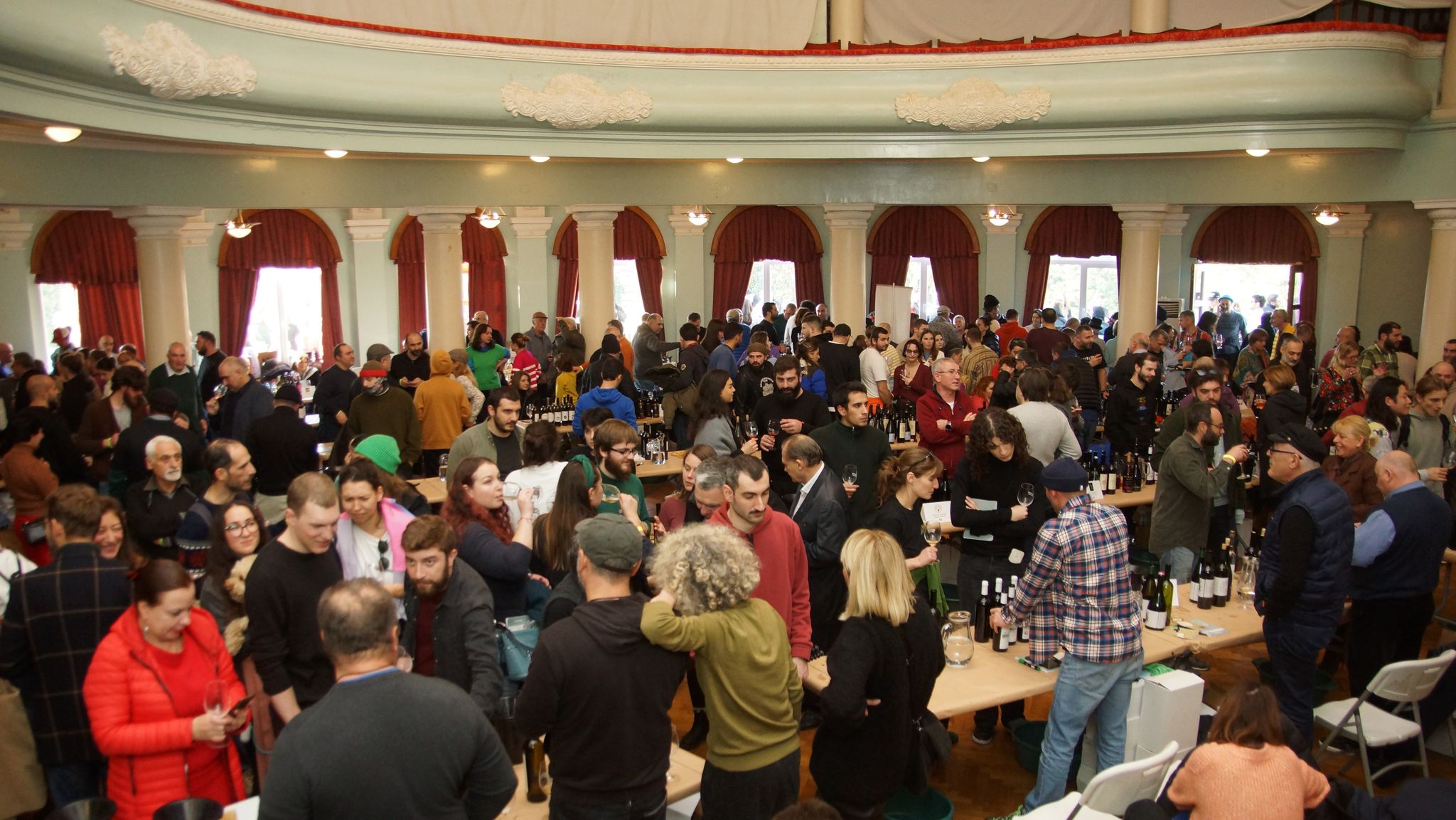 Amerimeri 2023 - Wineries Participating in the Festival
The wineries that will take part in the natural wine festival "Amerimeri" at Legends Tskaltubo Spa Resort on December 2 in the city of Tskaltubo are already known.
As a rule, the traditional natural wine festival "Amerimeri" is held in Western Georgia, and only wineries that are members of the Natural Wine Association participate in it.
In addition to Georgian natural wine lovers, foreign wine experts, journalists and exporters also traditionally visit the festival this year.
The National Wine Agency of Georgia traditionally helps in organizing the festival and partners with the Natural Wine Association.
You can find more details about the event at this link:
https://www.nwa.ge/en/blog/256?title=tsyaltuboshi-festivali-amerimeri-meored-gaimarteba&lang=en
Wineries participating in the festival:
Iberieli (Guria)
Kobidze Winery (Guria)
Marani Silovani (Guria)
Gia Jamberidze Winery (Guria)
Babas Winery (Guria)
Mefarishvili Winery (Guria)
Martvili Winery (Samegrelo)
Amiran Vepkhvadze Winery (Imereti)
Dimis Ferdobi (Imereti)
Archil Guniava's Cellar (Imereti)
Bagdati Estates (Imereti)
Gaioz Sopromadze Winery (Imereti)
Makaridze Winery (Imereti)
Winery Nagutnebi (Imereti)
Mshvenieradze Wine Cellar (Imereti)
Minadze's Cellar Phersvi (Imereti)
Lasha Guruli's Wine Cellar - Enkeni (Imereti)
Miriani's Marani (Imereti)
Nikoladze Winery (Imereti)
Winery Okona (Imereti)
Anapea village (Kakheti)
Kortava Winery (Kakheti)
Patara Marani (Kakheti)
Akhmeta Wine House (Kakheti)
Manavi Wine (Kakheti)
Nadelebi (Kakheti)
Winery Malati (Kakheti)
Juso Winery (Kakheti)
Robis Marani (Kakheti)
Nikalas Marani (Kakheti)
Zhuka-Sano wine (Kakheti)
Winery Arthana (Kakheti)
Charekauli (Kakheti)
Chortauli vineyards (Kakheti)
Martali Ghvino (Kakheti)
Lomtadze wine cellar (Kakheti)
Vejini Wine House (Kakheti)
Tedos Winery (Kakheti)
Iases marani (Kakheti)
Bakurtskheli (Kakheti)
Winery Iora (Kakheti)
Vazha Getiashvili Winery (Kakheti)
Wine Well (Kakheti)
Tilisma Winery (Kakheti)
Doctor's Bio Winery (Kakheti)
Our wine (Kakheti)
Lafati (Kakheti)
Kondoli Winery (Kakheti)
Khvtisia wine (Kakheti)
Pheasant's tears (Kakheti)
Kolagis (Kakheti)
Goderdzishvili family cellar (Kakheti)
Ilto's Valley (Kakheti)
Lagazi (Kakheti)
Levani's Winery "Akhmeta" (Kakheti)
Winery Dano (Kakheti)
Gvardzelashvili Winery (Kakheti)
Martiashvili Winery (Kakheti)
Doremi (Kakheti)
Anbani Wine (Kakheti)
Asatiani Winery (Lechkhumi)
Mushkudiani Winery (Lechkhumi)
Akhobadze wine cellar "Tsikare" (Racha)
Gabrieli's wine (Kartli)
Khidistauri Winery (Kartli)
Buas Marani (Kartli)
Irma and Kato vineyards and wine cellar (Kartli)
Demis Marani (Kartli)
Samtavisi Winery (Kartli)
Gotsa Winery (Kartli)
Angura (Kartli)