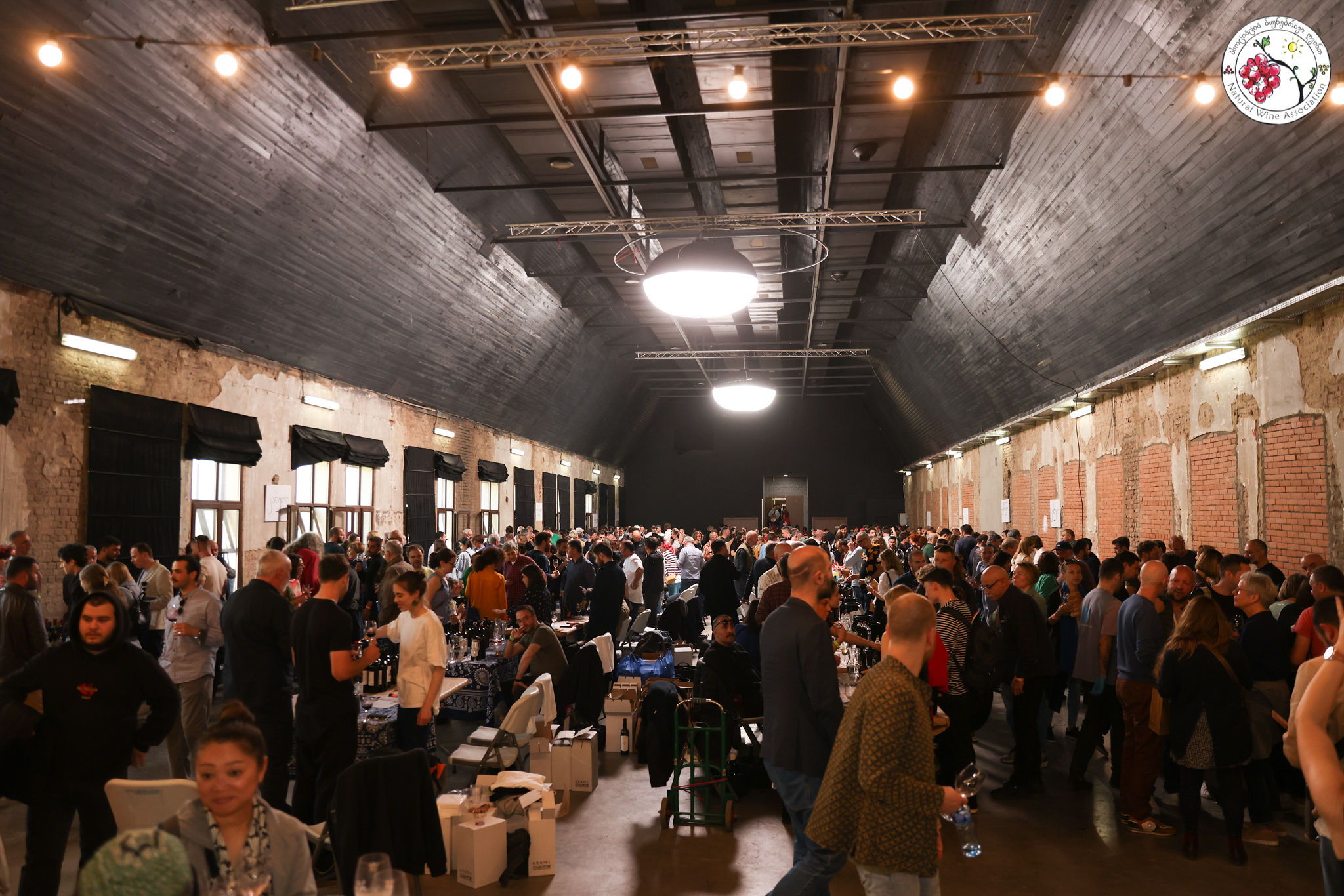 ZERO COMPROMISE 2023 - A Big Celebration of Natural Wine in Tbilisi
Many white, red, pink, amber, sparkling, fortified, pet nat, aged or new natural wines were displayed on May 5-6 in the presentation space located on Kostava Street in Tbilisi, where the ZERO COMPROMISE festival took place.
Traditionally, this festival is held by the union of winemakers producing natural wines - Natural Wine Association with the financial support of the National Wine Agency. The partner of the festival is the Deutsche Gesellschaft für Internationale Zusammenarbeit (GIZ) , supporting organizations of trainings and seminars on actual topics of viticulture and winemaking, parallel to the festival. For the second year, Veli Store has been an active supporter of the festival.
With the efforts of the Association and the help of supporters, this year's festival took the form of a natural wine week. Two days were dedicated to the wine exhibition, which attracted a record number of visitors. The wine samples were presented from all the regions of Georgia where there are winemaking traditions. If the abundance of wines from Kakheti, Kartli and Imereti have become commonplace in recent years, the activation of wineries in Racha, Lechkhumi, Samegrelo and Guria was exceptionally good news for the guests of this year's festival. These parts of Georgia have always traditionally produced wine, and these traditions have not disappeared, but the proliferation of wineries and the desire of winegrowers to bottle wine gives hope for good prospects in the future. The Association added some very good wineries from these regions last year.
Zurab Mgvdliashvili, Director of the Natural Wine Association: "This year's festival turned out to be large-scale in all aspects, which required a lot of human resources. Therefore, I would like to thank the organizing team of the festival. These people worked hard to make such a big celebration well organized. This year, for the first time, the festival had about 1,500 visitors in two days. With this indicator, Zero Compromise equaled international festivals of similar format. Compared to last year, the number of visitors has almost doubled, which means that the interest in natural wine has doubled. It's good that we anticipated this and planned the festival for two days; this initially solved the overcrowding and narrowness of the presentation space. Everyone was given more time to taste more wines. I think we will go even further next year."
The festival also set a record for the number of participating wineries: 100 members of the Association who make only natural wines. They adhere to the strict standards and rules of the Association, which are essential for natural wine production, and showcased their wines to both local and foreign guests. Two of the participants came from abroad - one from Ukraine and one from France.
Davit Mosulishvili, Dano Winery: "This was our family winery's first time at the festival. Compared to other festivals we have attended, this one had a different and special atmosphere. We met many foreign wine enthusiasts, experts and local gourmets, which made us hopeful that natural wine will gain more popularity in Georgia and more natural wine-oriented restaurants and bars will open. This is a great motivation for small natural wine producers like us. We enjoyed the two-day format of the festival."
The wineries at the festival were mainly interested in connecting and making deals with foreign exporters of Georgian wine. There was no shortage of businesspeople who were curious about wine at this year's festival.
Aleko Tskitishvili, Chortauli Vineyeards: "We have had foreign visitors who came to our tables with notebooks and pens, tasting our wines with thoughtful expressions in previous years. But this year they seemed to be much more and there were many new faces as well. One of them who came to me was Julie Peterson, a world-renowned wine critic and marketer who has been helping Georgian wine marketing for years. I saw her go around the tables and spend a lot of time with each participant, asking about the details and writing down the answers. I also met other importers, Tbilisi natural wine restaurant owners, and most importantly - loyal customers of my family cellar wines. They know they can get wine at a good price for their collection at festivals. We are always glad to see them and we gift them new wines that they have not tried before."
Tako Zhuruli, Zhuka-Sano Wine: "The festival was very important for Georgian natural wine and winegrowers. It was also important for our winery personally, because I learned several things that will make our wines more diverse and interesting. For example, I tried Rkatsiteli that was made without skins, where only the juice was fermented and turned into a wine. It was very soft, unknown, delicate wine that showed how different techniques can produce different drinks from the same grape. I also tried Imeretian wines that revealed the attitude of Imeretian winemakers to wine. I got very valuable advice and feedback from Iago Bitarishvili. And there were many other important impressions and thoughts from those two days. The festival was also very well organized."
During the festival, in the yard of the former silk factory, the guests were entertained with refreshments by famous natural wine restaurants - g.vino, "Poliphonia", "Azarphesha", "Okros Wine, Saidanaa and Coffee LAB".
Guja Goderdzishvili, Goderdzishvili Cellar: "It was important to gather in one space those people who share a common interest. This is the interest of wine! It was a two-day celebration with happy faces."
In the days after the festival, within the framework of the natural wine week, a cycle of meetings and seminars was held. They featured speakers like wine writer Alice Feiring, "Noma" restaurant sommelier Mads Kleppe, and wine critic and marketer Julie Peterson. They discussed current trends in global winemaking, wine marketing, Georgian wine potential, and other relevant topics.
Levan Sebiskveradze