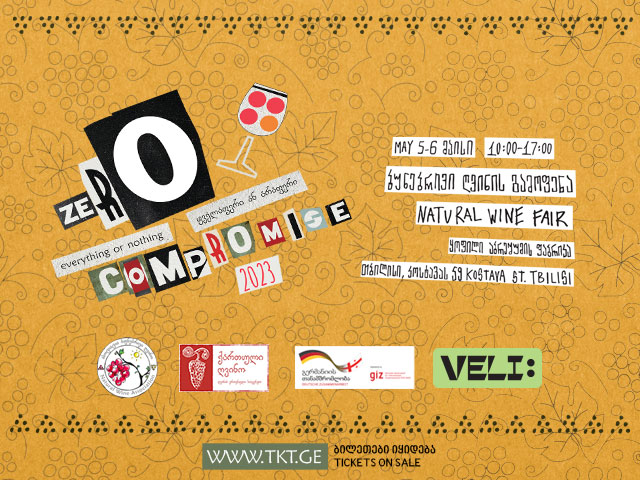 ZERO COMPROMISE - The wineries participating in the festival are revealed!
The 100 wine cellars participating in the Natural Wine Festival ZERO COMPROMISE planned for May 5-6 in Tbilisi, are already revealed.
The geographical reach of wine cellars is traditionally vast, covering almost all regions of Georgian winemaking.
Wine lovers, experts, and sommeliers will be able to taste natural wine for two days from 10 am to 5 pm.
The Festival is organized by the Natural Wine Association with the support of the "National Wine Agency of Georgia", and only wine cellars that are members of the Association are eligible to participate in the Festival.
The partner of the Festival week is the Deutsche Gesellschaft für Internationale Zusammenarbeit (GIZ). Within the framework of the festival, trainings and seminars will be organized, which will be led by foreign wine experts.
In addition, for the second year in a row, Veli Store actively supports the Festival.
Address:Former Silk Factory, N 59 Merab Kostava Street, Tbilisi.
You can buy tickets both on site and online:
https://tkt.ge/event/333907/bunebrivi-ghvinis-festivali-zero-compromise-5-6-maisi
Here is the list of wineries participating in Zero Compromise:
Iberieli
Kobidzeebis marani
Marani Silovani
Tkesheliadzis Marani
Gia Jamberidze Cellar
Martvilis Marani
Amiran Vepkhvadze's cellar
Archil Guniava Wine Cellar
Simon Chkheidze Wine cellar
Baghdati Estates
Gaioz Sopromadze Wine Cellar
Dimis Ferdobi
Doctors Wine
Pantsulaia's family Cellar
Baia's Wine
Mshvenieradze Winery
Makaridze Winery
Family Winery Nagutnebi
Bagrati's Wine
Mirianis marani
Taras Minadze's Cellar Phersvi 8000
Lasha Guruli's Cellar – ENKENI
Panaskerteli
Alapiani's Marani
Alexsander's wine cellar
anapea village
Antadze Wines
Tilisma Winery
Artanuli Gvino
Kortavebis Marani
Mikheil Madzgharashvili Cellar IVANURI
Akhmeta Wine House
Malati
Burjanadze-Shanidze Wine Cellar – Qvibari
Winery Naperebi
Lomtadze's marani
Kolagis
Makharebeli winery
Goderdzishvili family cellar
Wine Anbani
Vazha Getiashvili Wine Cellar
Wine House Gurjaani
Kerovani
Dano Winery
Levanis Marani Akhmeta
MARTIASHVILI'S CELLAR
Zurab Kviriashvili Vineyards LLC
Kondoli Winery
Doctor's Bio Cellar
Tedo's Marani
Lagvani
Juso´s Winery
Vellino
Manavi Wines
Chitos Gvino
Matiashvili's Cellar
Artana Wines
Nadelebi
Iases marani
Georgian Wine Heritage
Naotari
Robis Marani
Nikalas Marani
OKRO's WINES
Zhuka-Sano Wine
Ghvardzelashvilis cellar

Chortauli Vineyeards

Andria's Gvino
Our Wine
Do re mi
Aleksi Tsikhelishvili Wine Cellar
Chona's Marani
Davit Gremelashvilis Marani
Khvtisia Wine
Pheasant's Tears
Saro Wine
525 Wine
Artanuli Gaprenili
Jakeli organic wines and vineyard
Asatianis Cellar
Mushkudianis Marani
Tamani
Khvedeliani Cellar
Tariel Lomtadzes Marani
Kereselidze wine cellar
Pataridzi's Rachuli
Akhobadze's Cellar Tsiqare
Dasabami
Tanini
Gotsa Wines
Giorgi Revazashvili
Irma and Kato Vineyards and Winery
Samtavisi Marani
Tedzami Wines
TDWinery
BUA WINES
Gabrielis Wine
Niabi Winery
Demi`s Winery

parles de france