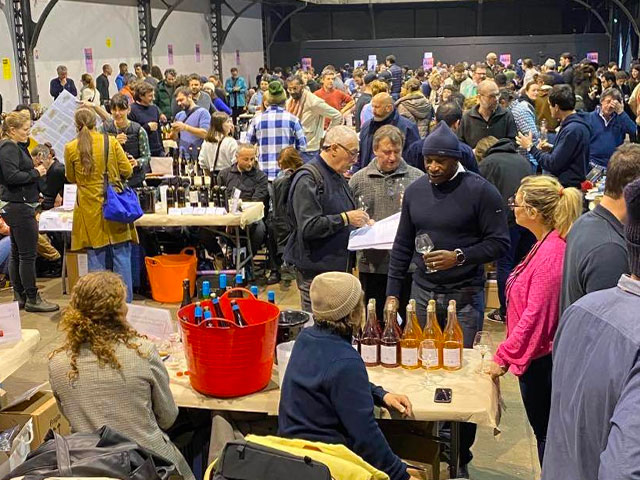 Georgian natural wines on Raw Wine Paris 2023
On March 12-13, one of the most famous natural wine festivals, Raw Wine Paris 2023, took place in Paris, the capital of France. The event was organized in the suburbs of Paris, in the area of an old cognac distillery, and traditionally, from Georgia, only member cellars of the Natural Wine Association, participated in it. This year, a record number - 17 Georgian natural wine cellars were represented in the festival.
Natural wine production is becoming popular not only in Georgia but throughout the world. 156 wine cellars from 15 countries participated in Raw Wine Paris 2023, and this should be considered a record number as well.
From the quantitative point of view, after the French winemakers who hosted the festival, the largest number of wineries were represented from Georgia. All participants are the members of the Natural Wine Association: Akhmeta Wine House; Alexander's Wine Cellar; Anapea; Anbani Wine; Andrias Gvino; Artana Wines; Baia's Wine; Demi's Wine; DoReMi WiNe; Doctor's Bio-cellar; Gabriel's Wine; Gaioz Sopromadze Wine Cellar; Iases Marani; Tilisma Winery; Vellino; Kobidzeebis Marani; Mushkudiani winery. The visit of small wine cellars to France and their participation in the festival was supported by the National Wine Agency of Georgia.
The Natural Wines Festival of Paris has been a successful event for Georgian winemakers. Owners of restaurants, bars, and wine shops from different countries have been interested in their wines. The subject of special interest has been the Georgian amber wine made in Kvevri. Even the guests who visited the festival merely to taste the wine expressed a great interest in this type of wine, because, on the very first day of the festival, it became known that the Georgians had presented a completely different and special wine.
Mariam Kakiashvili-Ruadze, Doctor's Bio-cellar: "The French restaurant owners have expressed great interest in our wines. We are also negotiating with German wine merchants and hopefully, they will also take our wines. We have Rkatsiteli, Khikhvi, and Saperavi wines. At the outset, we are not talking about large quantities, however, it is important that we are starting to cooperate."
Giorgi Volski, ,,Andrias Gvino": "German exporters, as well as French exporters, have expressed special interest in my wine. They mostly like Kvevri white wine, but there is also interest in Saferavi. I am being asked to send additional samples of wine and it seems that our business relations will have a significant development. At present, in Europe, generally, I sell more amber wine than red. In Georgia, the situation is vice versa".
Giorgi Chachua "Anbani": "As far as I have observed, there has been more interest in amber wine at this festival. They mostly prefer full-bodied, tannic wines, and we had mostly presented such wines. There were French and German importers whom we exchanged information with and their interest, as a matter of fact, should be developed into actual business relations. There were also Taiwanese and Japanese. We also exchanged contact details with them, and subsequently, we hope for good business relations with these people too".
Beka Jimsheladze, wine cellar "Vellino": "There have been at least 5-6 people who will communicate with me in the nearest future and we will continue our business partnership. I sell wine in 12 countries, but somehow my wine has not been represented in the French market yet and I am glad that business relations are being established with French importers too. In Europe, as you are aware, Georgian Kvevri amber wines are appreciated and interest is largely in this. Especially they are curious about the distinctions of Kakhetian varieties. Anyway, we have made a positive impression on the French, and we hope for future cooperation. "
Anna Imedashvili, "Akhmeta Wine House": "There have been certain real offers and we are hopeful. Usually, there are mainly two types of offers - directly from importers and from local wine bars. We have exchanged contact details, talked about prices, and quantities, and now we are waiting for their feedback via email. They appreciate Kvevri amber wines very much because of theirdistinction. There has been also an interest in Saperavi. Before we pour wine into a glass, we try to explain to everyone why the Kvevri is special and unique. For most of those people who somehow are familiar with the subject of wine, the term Georgian wine is associated with the Kvevri wine, and I think this is quite logical".
Lasha Sopromadze, "Gaioz Sopromadze Wine Cellar": "We have presented five types of wine from our wine cellar at the festival. The greatest attention has been paid to separately made Melko Tsolikouri and also separately made Krakhuna. On the second day of the festival, we met so many interested people that we are greatly hopeful for future cooperation. Five importers have expressed their interest in cooperation with us, and if at least two of them actually would buy our wine, this would be great. In general, the festival is very cool. We are in Paris after all, and if anyone makes good natural wine, they are all present here. What more should a natural wine lover wish for?!
Davit Kobidze, "Kobidzeebis Marani": "We have presented four varieties of wines from Guria at the festival. The interest has been great both on the first and second day of the festival. Wine importers not only from France but also from Germany, Belgium, and other countries have liked almost all of our wines and we are very satisfied with that. We also met with our old acquaintances at the festival. We sent the first batch of our wine to Paris last year, and I am glad that the French are gradually getting a taste for Gurian Chkhaveri. One thing is that it is very difficult for Europeans to pronounce the word "Chkhaveri", but we are here and will teach them with pleasure".
Levan Sebiskveradze, Paris-Tbilisi