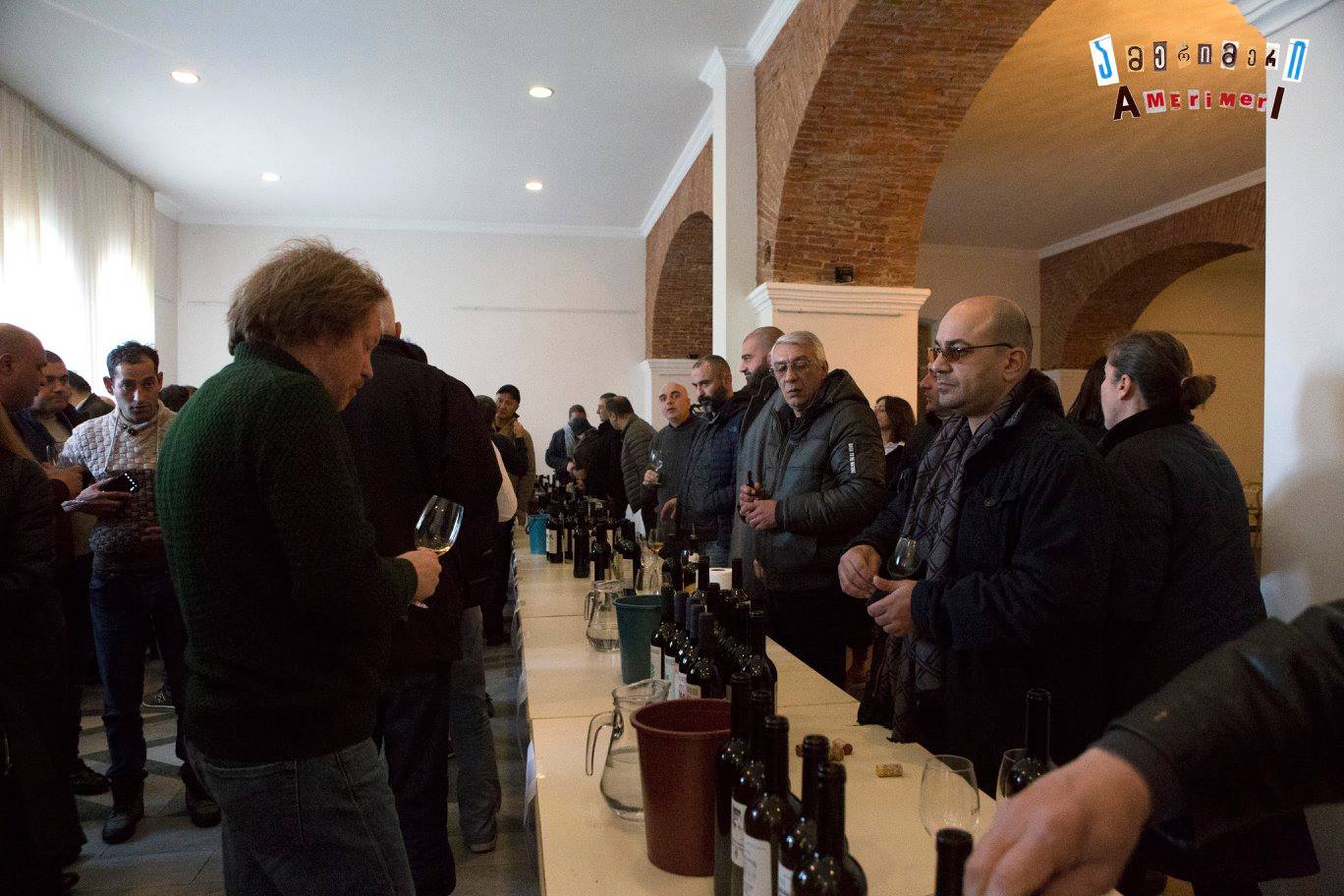 Amerimeri - expectations of winegrowers
On December 10, Tskaltubo will host the natural wine festival Amerimeri for the first time this year. About 80 wine cellars from different corners of Georgia will participate in the Festival.
Amerimeri, as well as the Festival-Exhibition ZERO COMPROMISE, is organized by the Natural Wine Association and supported by the National Wine Agency of Georgia, and only wine cellars that are members of the Association participate in it.
As a rule, NWA.GE got interested in the pre-festival mood of the winemakers participating in Amerimeri and what their expectations are. Some small wine cellars take part in this kind of festival for the first time and this day is especially important for them.
Irakli Minadze, Tarasi Minadze Wine Cellar "Phersvi": "For us and probably for other wine cellars from Imereti, the expectations of AmerImeri is full of joy and emotions. Much of the joy is due to our corner being the host of this great celebration, sharing emotions, new markets, and opportunities for winemakers to appear or to be discovered. This year, we will have wines of 2021 at the Festival: "Tsolikouri", "Krakhuna", "Otskhanuri Sapere" and "Dzelshavi". We expect that our wines will again introduce us to foreign partners, friends, new wines, and their flavors from all over Georgia."
Davit Kapanadze, Tklapi's Marani: "First of all, I want to share my wines with my fellow winemakers and hear their opinion. I know that exporters will also attend the Festival, so, I hope to find future partners. This year, I will present "Tsitska", "Tsolikouri" and "Otkhanuri Sapere" of 2021. The wines of 2022 will not be ready for the Festival yet."
Rezo Getiashvili, Vazha Getiashvili Wine Cellar: "It was a good initiative to take the natural wine festival from the "wine capital" to the "wine region" and this was proven in the very first year - the Festival was held and it was well introduced, which also means that you expect something better every year and this expectation is always met. Vazha Getiashvili's wine cellar will host the guests and hosts of Amerimeri again with Rkatsiteli and Saperavi. However, for the first time this year, we will have black and pink Rkatsiteli wines. We present the wines of 2018, 2019, and 2020 from the traditional wines of the wine cellars. Subsequently, old and new wines will wait for their old and new admirers. Of course, the whole charm of the Festival is not limited to the presentation of own wines, and the pleasure of tasting many good wines is a totally different song."
Tamar Gerliani, Malati winery: "Our wine cellar presents three types of wine from the 2021 harvest: "Rkatsiteli", "Saperavi" and the signature wine of our wine cellar named "Lali". Hopefully, this Festival will allow us to introduce our wine to as many people as possible. Also, we will taste the wines of the participating wine cellars."
Guram Maisuradze, "Nadelebi": "As always, I am looking forward to Amerimeri. I can't wait to see my beloved people, and winemakers, and taste new wines, and this process of searching for new flavors is an unimaginable pleasure. There are many people in Imereti who cannot come to Tbilisi for wine festivals, and holding a festival there is a great joy for them. This is true not only for Imeretians but for all of Western Georgia. This year, I am presenting myself with wine from my vineyards for the first time. I will have 4 positions of wine: Saperavi, Mtsvane, Khikhvi, and Magraanuli Kisi. Also two types of Pet Nat: "Rkatsiteli" and "Tsitska-Tsolikouri".
Eto Gzirishvili, Tedo's Marani: "We have more than 15 wines to present at this year's AmerImeri, and I think this is a record number. Our pre-festival expectations are, of course, based on networking and progress in exports. I really like Tskaltubo and such a Festival will also be important for this region. I stand for adding as many new places as possible to the Georgian wine map."
Levan Gogoladze, "Levani's Marani Akhmeta ": "We are not going to present wines in America this year. Instead, I decided to participate in Amerimeri. We will present at the Festival: Rkatsiteli, Kakhuri Mtsvane, and Saperavi. The advantage of holding the Tskaltubo festival is that the costs will be lower and there will be importers specifically interested in Georgian natural Kvevari wines. If the importer spends the money and time to come to Georgia, he will definitely choose wine here - mine or someone else's."
Amiran Vepkhvadze, Amiran Vepkhvadze Cellar: "Any festival is an opportunity to meet new importers. The festival is also a place to taste new interesting wines and meet new members of our Association. I will present the following wines at AmerImeri: "Krakhuna", "Tsolikouri", "Tsitska-Krakhuna" and "Otkhanuri Sapere". Holding a festival in Imereti is of great importance. This is the heart of Western Georgia, where the best wines in the world are produced. There is a great variety of wines from Samegrelo, Abkhazia, Adjara, Guria, Racha-Lechkhumi, and even Imereti. Georgia and Imereti should become the center of world winemaking!"
Mirian Iosebashvili, Miriani's Marani: "The expectation is, of course, great, especially for those of us who have not yet exported abroad. Amerimeri is an ideal Festival for increasing exports. In Tskaltubo, I will present: "Kundza", "Krakhuna", "Dzelshavi", "Tsolikouri" and "Mgaloblishvili". In my opinion, the idea of holding a Festival in Tskaltubo and Imereti is very good for the winemakers of Imereti and Western Georgia. In this way, our awareness increases. In addition, the proximity of Kutaisi Airport and the comparatively low cost of the flights is a kind of advantage ."
Gogita Makaridze, Makaridze Winery: "I am sure that Amerimeri will be an example of many other festivals and exhibitions of what is important in natural wine and what benefits natural wine and products bring. In the West, as you know, very little attention is paid to such activities. Therefore, this Festival allows guests from other countries to get to know the wines of Imereti and the West. It is also an excellent way for representatives of the local market, as well as those from all over the world, to discover the unique wines of Imereti. I will present: "Tsitska", "Tsolikouri", "Tsitska-Otskhanuri Sapere" and "Otskhanuri Sapere" of the 2021 harvest.