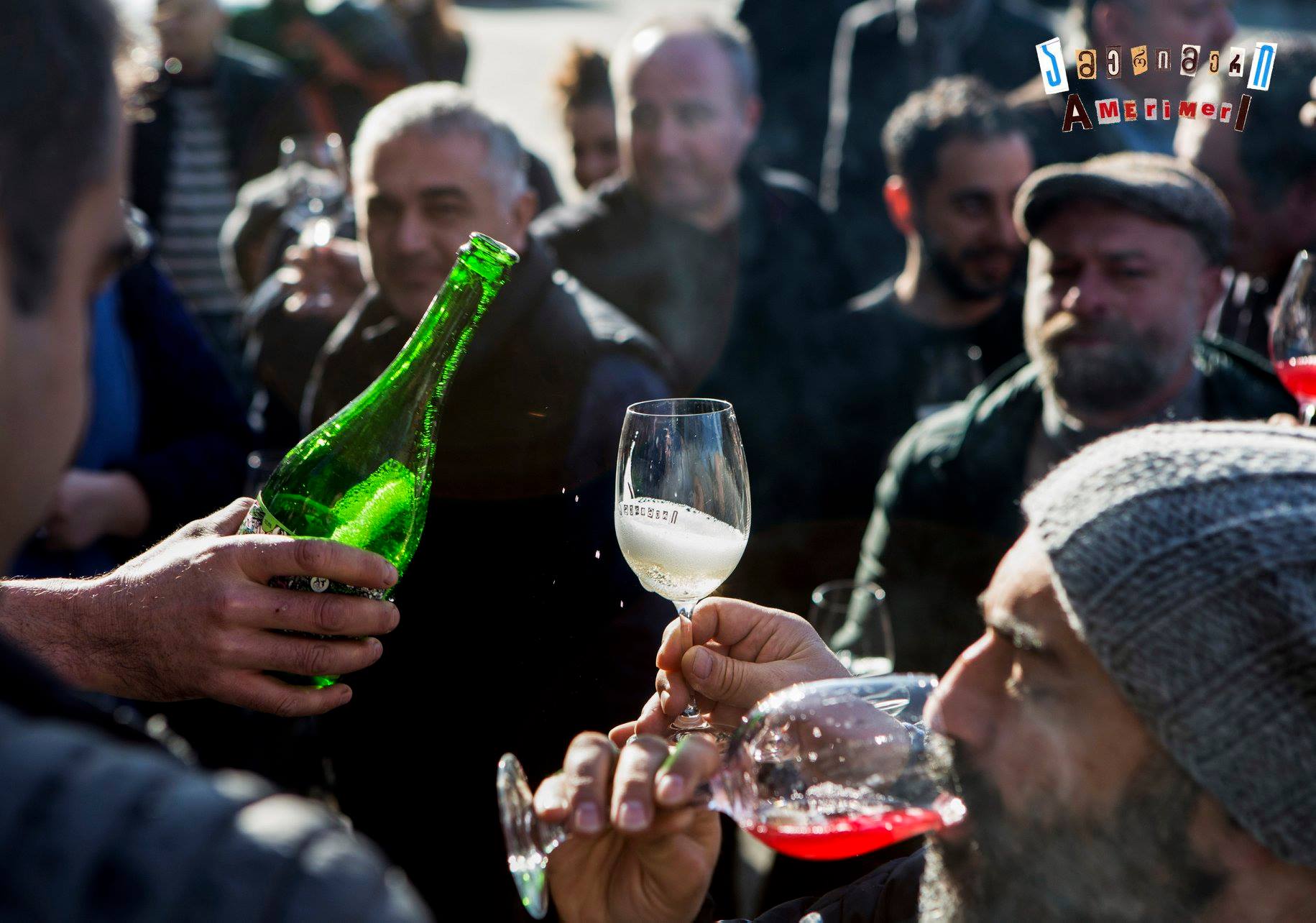 AMERIMERI - The Festival participant wine cellars are announced!
For those fond of wine, the city of Tskhaltubo will host the famous Natural Wine Festival "AmerImeri" after a two-year break.
Only the members of the Natural Wine Association participate in this Festival and offer the guests natural wines made from grapes grown in organic vineyards.
Partner companies also participate in AmerImiri, which will showcase wine-related items and accessories at the Festival.
Winery Region
Iberieli
Guria, Kakheti
Kobidzeebis marani
guria
Targameuli wine cellar
Samegrelo
Marani Silovani
guria
Martvilis Marani
Samegrelo
Amiran Vepkhvadze's cellar
Imereti
Archil Guniava Wine Cellar
Imereti
Simon Chkheidze Wine Cellar
Imereti
Baghdati Estates
Imereti
Gaioz Sopromadze Wine Cellar
Imereti
Nikoladzeebis marani
Imereti
Okona
Imereti
Dimis Ferdobi
Imereti
Tklapi's Marani
Imereti
Pantsulaia's family Cellar
Imereti
Baia's Wine
Imereti
Mshvenieradze Winery
Imereti
Makaridze Winery
Imereti
Family Winery Nagutnebi
Imereti
Bagrati's Wine
Imereti
Mirianis marani
Imereti
Taras Minadze's Cellar Phersvi
Imereti
Lasha Guruli's Cellar - ENKENI
Imereti
Alexsander's wine cellar
Kakheti
anapea village
Kakheti
Antadze Wines
Kakheti
Tilisma Winery
Kakheti
Artanuli Gvino
Kakheti
Akhmeta Wine House
Kakheti
Malati
Kakheti
Burjanadze-Shanidze Wine
Cellar - Qvibari
Kakheti Imereti,Kartli
Naperebi Winery
Kakheti
Lomtadze's marani
Kakheti
Makharebeli winery
Kakheti
Goderdzishvili family cellar
Kakheti
Vazha Getiashvili Wine Cellar
Kakheti
Wine Anbani
Kakheti
Levanis Marani Akhmeta
Kakheti
Chitos Marani
kakheti
Zurab Kviriashvili Vineyards LLC
Kakheti
Manavi Wines
Kakheti
Nadelebi
Kakheti
Tedo's Marani
Kakheti
lagvani
Kakheti
Kortavebis Marani
Kakheti
Velino
Kakheti
Juso´s Winery
Kakheti
Matiashvili's Cellar
Kakheti
Dano Winery
Kakheti
Artana Wines
Kakheti
Iases marani
Kakheti
Mukuzanis marani
Kakheti
Robis Marani
Kakheti
Nikalas Marani
Kakheti
OKRO's WINES
Kakheti
Zhuka-Sano Wine
Kakheti
Ghvardzelashvilis cellar
Kakheti
Chortaulis vineyards
Kakheti
Andria's Gvino
Kakheti,Imereti,kartli
Our Wine
Kakheti
Do re mi
Kakheti
Khvtisia Wine
Kakheti
Kondoli Winery
Kakheti
Pheasant's Tears
Kakheti
Saro Wine
kakheti
Artanuli Gaprenili
kakheti
Khvedeliani Cellar
Racha
Akhobadze's Family Cellar
Racha
Tanini
Kartli
Dasabami
Kartli
Gotsa Wines
Kartli
Khidistauri Marani
Kartli
Samtavisi Marani
Kartli
TDWinery
Kartli
BUA WINES
Kartli
Irmas da Katos Venakhebi da Marani
Kartli
Gabrielis Wine
Kartli
Demi`s Winery
Kartli
participating partners:
Velistore
Saidanaa
Qvevrula
Tabla-Nova