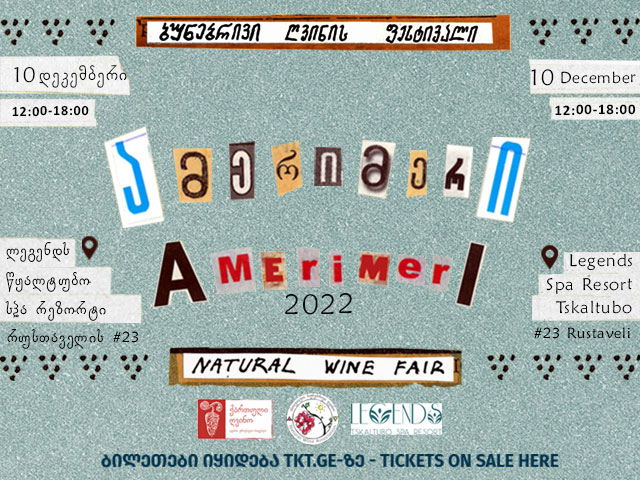 The Natural Wine Fair "AmerImeri" will host each and every corner of Georgia
On December 10, the natural wine fair "Amerimeri" will be held with organization of the Natural Wine Association and the support of the National Wine Agency in Legends Tskaltubo Spa Resort. Only the members of the Natural Wine Association participate in this Fair and offer the guests natural wines made from grapes grown in organic vineyards.
People living outside of Georgia's capital Tbilisi face a shortage of wine fair. Especially when it comes to the natural wine fair, the tradition of which was recently established in Georgia. The "Amerimeri" Fair, established by the Natural Wine Association, was traditionally held in Kutaisi at the end of every year. However, due to the global Covid pandemic, the only natural wine fair in West Georgia has not been held in the past two years.
"Amerimeri" will be held for the third time this year and will offer guests wines from different corners of Georgia. About a hundred small wine cellars will participate in the Fair, which are members of the Natural Wine Association, and produce wine only in full compliance with the rules of natural winemaking.
The origin of natural wine is vineyards kept and cared for in compliance with organic rules, where herbicides, systemic drugs, and mineral fertilizers are not used, subsequently having a negative impact on wine. It is from this purest raw material that the members of the Association make wine, and which do not use such additional means and methods in the wine cellar as selective yeast, curing agents, pasteurization, wine acids, tannins, or other similar industrial additives.
Traditionally, the guests coming to the "Amerimeri" planned in Tskaltubo this year will have the opportunity to meet the winemakers directly, taste and buy their rare wines, and enjoy and discover new flavors. A large number of Fair visitors will taste the special, natural wines produced by small wine cellars during and after the pandemic period for the first time.
The "Amerimeri" Fair will be held in Legends Tskaltubo at the address:
Tskaltubo

Spa Resort,

23, Rustaveli ave

12:00 to 18:00. Ticket price is 20 GEL.