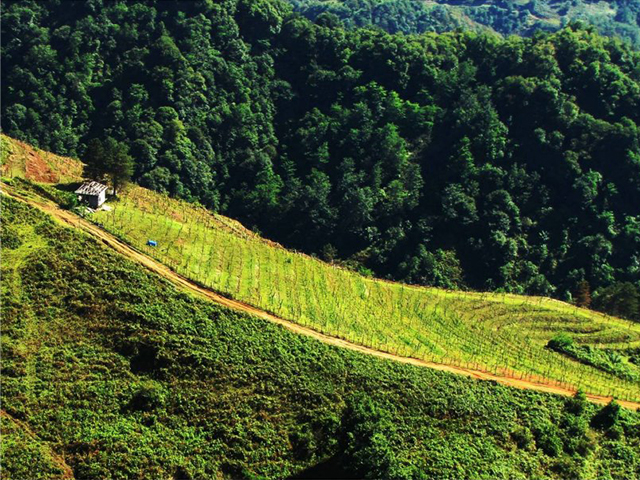 Natural Wine Cellars in Guria with exceptional wine and history
The culture of viticulture and winemaking has developed in Guria since ancient times, as evidenced by the many local best varieties of wine preserved in collection plots. Among them is Chkhaveri, the pride of the Gurian people. In recent years, the demand for Gurian wines has increased considerably, and the population has actively begun to cultivate local varieties of grapes.
Ampelographers have described as many as 60 native grape varieties in Guria. However, in the last century, under the agronomic policies of the Soviet Union, Gurian viticulture declined and diminished. Tea and citrus were given priority, which led to the cutting down of vineyards. However, various types of hybrid varieties of vines spread like weeds. Wine falsification became widespread, and a harmful practice of making alcoholic beverages of unknown origin by mixing sugar into chacha became common. In the last decade, Gurians have returned to local grape varieties.
By going village by village and planting in his small plot, Andro Vashalomidze, a creative enthusiast made a great effort and contribution to the process of rediscovering Gurian vine varieties and returning them to viticulture (Sakmiela, Skhilatubani, Jani, Tchumuta, etc.). Members of the Natural Wine Association are grateful to Andro Vashalomidze, who in recent years planted vineyards of local grape varieties in Guria.
Zurab Topuridze was one of the first to plant Chkhaveri vineyards in Guria, specifically in the village of Sakvavistke, Chokhatauri. Zurab Topuridze's family winery "Iberieli" currently owns 10 hectares of vineyards in this village. In addition to saving rare vine varieties, the family aims to revive and develop ancient traditions of making wine in Qvevris. The family cellar makes wines mainly from Chkhaveri. In recent years, however, rare varieties of Guria grapes such as White Kamuri, Jani, Skhilatubani, Sakmiela, and others have appeared on Iberieli wine labels.
There is another family winery, a member of the Natural Wine Association - "Silovani" named in honor of the family ancestor in the village of Sachamiaseri, Chokhatauri Municipality. The cellar belongs to Lasha Skhvitaridze, who has been making natural wine since 2016. The family owns Tsolikouri vineyard. In 2022, there will be planted Chkhaveri and Sakmiela. Also, a few rare vines of Guria are cultivated in small quantities: Skhilatubani, Jani, Mtevandidi, Badagi, and Tchumuta. Mainly, "Silovani" makes wine in qvevris.
There is "Kobidzeebi Wine Cellar" in another beautiful village of Chokhatauri municipality - Erketi, which belongs to the viticulturist-winemaker Davit Kobidze. David Kobidze and his family continue the work begun by their ancestors. Bottling of wine started in 2014 with the advice and help of Zurab Topuridze. Initially, 50 bottles were bottled, and now 5,000 bottles of wine are being produced. The Kobidzes have 15 Gurian vine varieties grown in their vineyard: Chkhaveri, Aladasturi, Jani, Skhilatubani, Sakmiela, Kamuri, Atinauri, Klarjuli, Mtevandidi, Badagi, Tchumuta, and Mtredispekha. The cellar currently produces 7 types of natural Qvevri wine, using the Georgian traditional method, both based on chacha and without chacha.
Gia Jamberidze Cellar is also in Chokhatauri Municipality. The Jamberidzes have cultivated mainly Tsitska and Tsolikouri in the village of Goraberezhouli. They have planted the Chkhaveri vineyard two years ago and they hope for more diversity soon. The wines of Gia Jamberidze Cellar are mostly made in oak barrels and in this regard, these wines are of great interest.
One indication of the positive dynamics of viticulture and winemaking in Guria is the fact that in 2022 three more wineries of the Association "Natural Wine" have applied for membership. Among them is the already famous Teimuraz Sharashidze Cellar in Guria, which has been producing Chkhaveri wine for years.
The mere fact that as many as 60 varieties of local vines have been described in Guria speaks to the great potential and possibilities of this region. Yet one thing is potential and opportunity, and another is the current reality, which Gurian winemakers, focused on natural wine production, are trying to change on a daily basis. It is thanks to them that wine gourmets in Guria and the rest of Georgia are gradually remembering the legendary Chკhaveri, and tasting wines made from other traditional varieties of grapes as well. These people are well aware that a dead history means nothing. All that matters most is to let history go on!