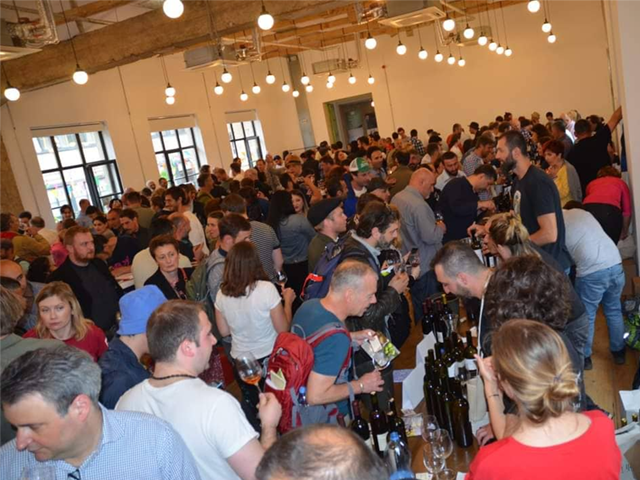 Zero Compromise - The wineries participating in the festival are revealed!
Much to the delight of wine lovers and those interested in quality wine, the famous natural wine festival - Zero Compromise - returns after a global pandemic!
The principal natural wine festival in Georgia will take place on 13 May at the multifunctional space located at 59 Merab Kostava Street, Tbilisi.
Only wineries that are members of the Natural Wine Association and that make wine using only natural methods, without unnecessary intervention or additives, will take part in the exhibition.
Alongside Georgian wine lovers, as usual, foreign wine experts, journalists, and exporters will also visit Zero Compromise this year. The Natural Wine Association traditionally supports organizing the exhibition and is partnered with the National Wine Agency of Georgia.
Here is the list of wineries participating in Zero Compromise:
Winery
Region
Iberieli
Guria, Kakheti
Kobidzeebis marani
Guria
Targameuli Wine Cellar
Samegrelo
Marani Silovani
Guria
Gia Jamberidze Cellar
Guria
Martvilis Marani
Samegrelo
Amiran Vepkhvadze's Cellar
Imereti
Archil Guniava Wine Cellar
Imereti
Simon Chkheidze's Cellar
Imereti
Baghdati Estates
Imereti
Gaioz Sopromadze Wine Cellar
Imereti
Nikoladzeebis marani
Imereti
Dimis Ferdobi
Imereti
Doctor's Wine
Imereti
Tklapi's Marani
Imereti
Pantsulaia's family Cellar
Imereti
Baia's Wine
Imereti
Mshvenieradze Winery
Imereti
Makaridze Winery
Imereti
Family Winery Nagutnebi
Imereti
Bagrati's Wine
Imereti
Mirianis marani
Imereti
Taras Minadze's Cellar Phersvi 8000
Imereti
Lasha Guruli's Cellar - ENKENI
Imereti
Alapiani's Marani
Kakheti,Kartli
Alexsander's Wine Cellar
Kakheti
Anapea Village
Kakheti
Antadze Wines
Kakheti
Tilisma Winery
Kakheti
Artanuli Gvino
Kakheti
IVANURI
Kakheti
Akhmeta Wine House
Kakheti
Malati
Kakheti
Burjanadze - Shanidze Wine Cellar Qvibari
Kakheti Imereti,Kartli
Lomtadze's marani
Kakheti
Makharebeli Winery
Kakheti
Goderdzishvili family cellar
Kakheti
Wine Anbani
Kakheti
Vazha Getiashvili Wine Cellar
Kakheti
Kerovani
Kakheti
Levanis Marani Akhmeta
Kakheti
Zurab Kviriashvili Vineyards LLC
Kakheti
Tedo's Marani
Kakheti
Lagvani
Kakheti
Lapati
Kakheti
Kortavebis Marani
Kakheti
Juso´s Winery
Kakheti
Chitos Gvino
Kakheti
Matiashvili's Cellar
Kakheti
NIKA WINERY
Kakheti
Artana Wines
Kakheti
Mirianuli
Kakheti
Iases marani
Kakheti
Mukuzanis marani
Kakheti
Georgian Wine Heritage
Kakheti
Naotari
Kakheti
Robis Marani
Kakheti
Nikalas Marani
Kakheti
OKRO's WINES
Kakheti
Zhuka-Sano Wine
Kakheti
Ghvardzelashvilis Cellar
Kakheti
Chortaulis vineyards
Kakheti
Andria's Gvino
Kakheti,Imereti, Kartli
Our Wine
Kakheti
Do re mi
Kakheti
Aleksi Tsikhelishvili Wine Cellar
Kakheti
Chona's Marani
Kakheti
Khvtisia Wine
Kakheti
Pheasant's Tears
Kakheti
Saro Wine
Kakheti
525 Wine
Kakheti
Artanuli Gaprenili
Kakheti
Jakeli organic wines and vineyard
Kakheti
Asatianis Cellar
Lechkhumi
Khvedeliani Cellar
Racha
Tariel Lomtadzes Marani
Racha
Kereselidze Wine Cellar
Racha
Akhobadze's Family Cellar
Racha
Pataridze's Rachuli
Racha
Tanini
Tbilisi, Kartli
Dasabami
Kartli
Variani's Marani
Kartli
Gotsa Wines
Tbilisi, Kartli
Giorgi Revazashvili
Kartli
Khidistauri Marani
Kartli
Samtavisi Marani
Kartli
TDWinery
Kartli
BUA WINES
Kartli
Gabrielis Wine
Kartli
Niabi Winery
Kartli
Demi`s Winery
Kartli
Chamber Winery Trojak
Czechia
Yasmik Wine
Armenia